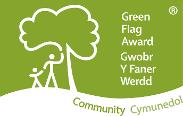 Cowbridge Charter Trust cio is extremely proud to earn the right to fly the Green Flag Community Award at the Old Hall Garden in recognition of their excellent facilities and commitment to delivering great quality green space.
The Cowbridge Charter Trust was formed in 2003 to celebrate 750 years since the granting of the first Borough Charter on the 13th March 1254
by Richard de Clare the Lord of Glamorgan.
Cowbridge Charter Trust and Cowbridge Charter Trust CIO are registered charities
Welcome to our web site

Our Projects, past and present.

We restored the Town walls and have an on-going maintenance program, planted primroses on Primrose Hill, founded the Cowbridge Food and Drink Festival, floodlit Holy Cross Church, installed a story-telling area by the Library.
In the Old Hall we have repaired and painted the Façade, paved a new terrace around the pond, installed memorial benches, planted a range of trees, shrubs and plants to encourage biodiversity and make the gardens a place not to be missed.
The Trust is supported by: